As a catcher, several different pieces of gear are necessary for the game. The best baseball bags for catchers have a lot of room and can hold all of your equipment. The best baseball bag is durable and can keep everything they need.
While there are a few different types of catcher's gear, the main items catchers will use regularly are their equipment. Below we've put a list of some of the best baseball bags for catchers to help make your search easier.
8 Best baseball bags for catchers
We've compiled a mix of sizes and wheeled bags or backpacks for you to choose from the list below. It's essential to keep a budget and style in mind, but ultimately, your decision should be made dependent on whether or not the bag's size and mobility are appropriate for you. Let's start.
1. Louisville Slugger Prime Rig Wheeled Bag
The Louisville Slugger is one of the most popular and best-selling bags in baseball history. The Louisville Slugger Prime Rig Wheeled Bag is durable, water-resistant materials. The bag's main compartment has enough space for all your gear, especially if you're storing up to four bats.
The interior padded slots are great for transporting your bats safely and securely. The exterior pockets are great for carrying extra gear like a bat vise, ball retriever, and so on.
In addition to its spacious main compartment and exterior pockets, the Louisville Slugger Prime Rig Wheeled Bag also comes with two removable interior shelves that can be used to store your gear in an even more organized fashion.
While you can remove the shelves to get more room inside the bag, it's unnecessary if you don't plan to use them during everyday use.
The Louisville Slugger Prime Rig Wheeled Bag also comes equipped with a fleece-lined valuables pocket to keep your wallet and phone safe while you're out and about on game days.
This valuables pocket not only keeps your belongings safe but also makes it easy for you to take care of during games.
2. Easton E700W Wheeled Bag
It is a heavy-duty wheeled bag with an all-terrain design to easily carry all the catcher's gear. It has a large main compartment, holding a helmet, gloves, and other stuff. There are four additional pockets in the bag for bats and other gears. The whole bag is built with heavy-weight T420D hex ripstop 600D Polyester fabric for maximum durability.
There is a fence hook in the bag so that you can hang it on the batting cage or dugout fence. The inline wheels are rugged and sturdy to move quickly from one place to another.
The zippers used in this wheeled bag are lockable, making it more durable. It has an extra-large main compartment and four different bat sleeves to store all the stuff securely. It does not have any separate compartment for storing shoes or cleats.
You can use the large compartment for this purpose. The overall dimensions of this wheeled baseball bag are 36 x 13 x 13 inches (L x W x H).
Easton E700W Wheeled Bag is available at an affordable price tag, making it perfect for high school players who need durable equipment to play well.
3. No Errors NO E2 Wheeled Catchers Gear Bag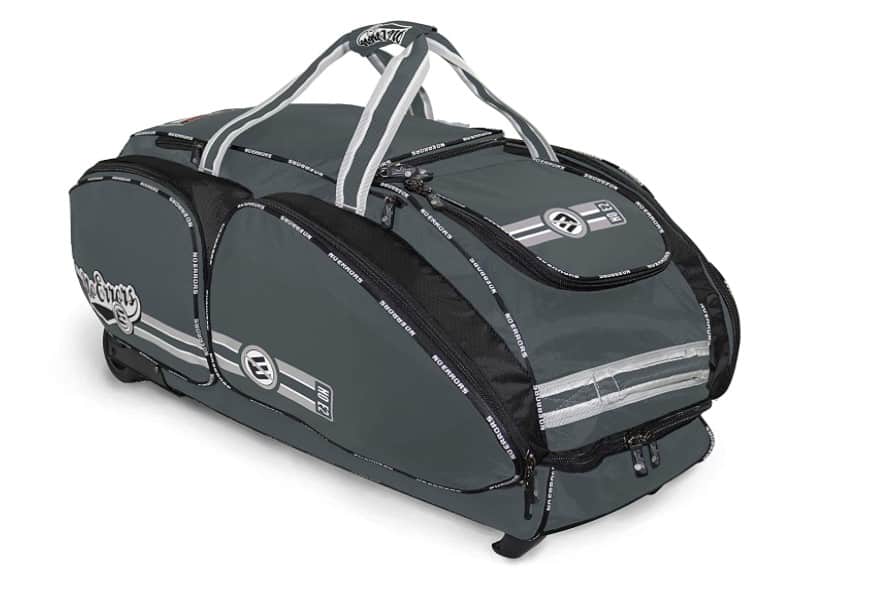 The E2 NO Errors NO E2 Wheeled Catchers Gear Bag is a heavy-duty catcher's bag. It has been designed in the best way to provide you with the comfort of the catcher.
It is made of heavy-duty fabrics, thus providing you with the best material. It can hold all of your equipment with ease.
This catcher gear bag will provide you with enough room to hold up to three baseball bats, all of a catcher's essential gear.
In addition to that, it also has a place for batting and catcher's helmets. The material used in this bag is durable and strong, making this bag the best compared to other bags available in the market.
It has a shelving system, expandable shin guard pocket, and heavy-duty cleat pocket, which will help you perfectly in storing all your equipment.
If you love traveling, this might be the best catcher gear bag for you because it is designed specifically for those catchers who love traveling from one place to another.
4. Champro Oversize Equipment Bag
If you are looking for a spacious sports equipment bag, then the Champro Oversize Equipment Bag is one of the best baseball bags for catchers to consider. This bag measures 36 x 16 x 16 inches, making it an ideal choice if you want to carry a lot of gear.
It is built using a water-resistant 600D polyester fabric that can easily withstand the demands of a busy season.
In addition, this baseball bag for catchers contains high-capacity zippers on two sides for expanded storage and quick access to your gear.
And it is available in four different colors, including Carolina Blue, Navy, Red, and Royal. This bag is a large backpack that has room to accommodate all your needs.
It features a large main compartment and a front pocket, secured with a zipper. The bag comes with two side pockets for extra storage options.
The bottom of the bag features a padded compartment and rubber feet to give it stability and protection from wear and tear.
5. Rawlings Sporting Goods Yadi Wheeled Bag
The Rawlings Sporting Goods Yadi Wheeled Catcher's Bag is an excellent choice for catchers. The dimensions of this bag are 37 L x 14 w x 14 H. It has an extra-large main compartment with a thermal lining to help keep your baseball equipment safe and secure.
The telescopic pull handle makes it easy to roll the bag through crowded areas or down the dugout stairs, while the reinforced support base keeps it stable when you're loading it up with bats and gloves.
This bag comes with two large wheels and a top handle so you can easily roll it where it needs to be, and because there's a convenient spot at the end of each of the handles, you can clip your water bottle right on there.
The top panel is removable, which makes it easy to personalize this bag with your name and number on it, so you won't have any trouble finding yours among all of your bags.
You can personalize it with a decal from our extensive collection of custom panels so that you can show off your individuality on and off the field.
6. DeMarini Momentum Wheeled Bag
The DeMarini Momentum Wheeled Bag is as hard-working as you are. DeMarini Momentum Bag offers the perfect storage space without being too bulky. The removable decoration panel allows you to customize and personalize your bag easily.
The separate shoe compartment makes this bag a must-have for any ballplayer. The front valet tray provides a place to stash your cell phone, keys, or other small stuff for extra convenience.
This is a perfect fit for the baseball player on the go. The ample-sized main compartment will easily hold four bats and loads of gear.
You can also store your helmet inside the large vented on the front for protection and airflow to keep them smelling fresh. Black inline wheels make hauling your gear a breeze.
Take the hassle out of traveling to and from practice or a game with this wheeled duffel bag.
7. Easton E100g Equipment Bag
If you are looking for an excellent all-around catcher's bag that isn't too expensive or complicated, the Easton E100g Equipment Bag may be a perfect option for you.
The bag is 38″L x 14″W x 14′ H, the perfect size for high school. Two complete sets of catcher's gear, batting helmets, and bats are all stacked in the main compartment because the simple and big U-shaped zipper is highly efficient to place and remove the gears.
The bag is manufactured of durable T420D hex ripstop 600D polyester, with diamond stamped to protect against wear and tear.
And the heavy-duty zippers are made to provide long-term durability. You know it'll last because the E100g Equipment Bag has to carry straps that use bolstered stitching.
The straps also carry a rubberized handle for a firm grip, not only because the stitching is supported.
The straps are created for additional support and maximum load stabilization and weight disbursement, and they extend all the way around and under the bag.
You can not only save your gear but lock it as well, thanks to the ability to carry the bag without having to strain to hold it level.
8. Easton E900c Wheeled Catchers Bag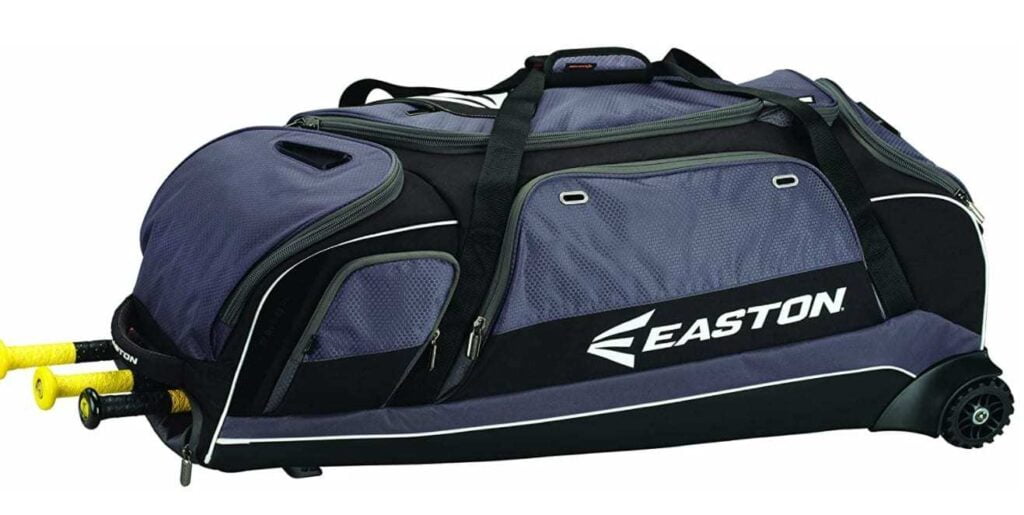 This bag is perfect for those who want to go with a wheeled bag. The Easton E900c Wheeled Catchers Bag is a lightweight catcher's bag that will help you organize all your gear in a single place.
This option is durable and sturdy, with multiple pockets for excellent organization.
This catcher's bag has an extra-large main compartment, which opens from the top to make it easier to put your equipment inside.
The large space is ideal for storing your helmet, chest protector, leg guards, and other gear. If you want to carry your catching mitt with you, this bag features a small pocket on the outside explicitly designed for that.
The Easton E900c Wheeled Catchers Bag has convenient pockets for storing all of your accessories. You can even use the side pockets to store items like water bottles that you may need during practice or a game.
With so many compartments, this catcher's bag is excellent at helping you stay organized and not lose anything you need.
You'll find it easy to transport this catcher's bag because it comes with wheels and rails. When these are retracted downward, the bag will stand upright on its own without falling over.
Things to Consider Before Buying a Catcher's Bag
You should consider many features when looking for the best baseball catcher's bag for your needs. Here are some of the things that you need to look into before buying a catcher's bag:
Storage Space
The first thing that should come to your mind when looking for the best catcher's bag is how much storage space you need. The primary catcher's equipment gives a total of seven pieces of gear. Aside from this, there are also other accessories that they might want to keep inside their bags.
All of these things must be considered when choosing the right bag size for them. Otherwise, the athletes might not fit all the important things inside it and will have to leave some behind.
Separate compartments
The first thing you should look for in a catcher's bag is separate compartments. The more compartments there are, the better it will organize all of your gear.
Look for a catcher's bag with at least two main sections, one for catching equipment and another for batting equipment.
If possible, you want multiple pockets within each area to keep everything organized. This way, you won't have to dig through all of your gear to find something like a helmet or shin guards. For example:
One compartment for carrying gloves, helmet, and other equipment.
One compartment for holding shoes and glove conditioner.
One compartment for carrying apparel and other personal items.
Affordability
While you are making a purchase, the first thing that comes to your mind is whether or not you can afford it. After all, it's no secret that catchers bags can be expensive.
The good news is that you don't need to spend all your money to get a catcher's bag. There are different types of catcher's bags available nowadays. Some of them are more affordable than others.
A catcher's bag can vary from $50 to $150. The cost of a catcher's bag depends on the size, material, and brand. Also, keep in mind that you will have to buy other types of equipment, like gloves, chest protectors, face masks, etc.
Extra Pockets
Look for a catcher's bag that has several extra pockets so that you can carry anything else with you to the game or practice.
This will allow you to take other items such as water bottles, cell phones, keys, or anything else that might come in handy during an emergency. You may also want to consider adding an extra pocket for snacks or other personal necessities.
Customizable
Many catcher's bags have customizable colors and patterns on the outside of the bag. This allows people to create unique designs on their bags.
Many people enjoy having customizable color options because they can make the bag their own and stand out from everyone else. It also helps teammates identify their equipment in the dugout or locker room.
Material
The first thing that you should look for when searching for a suitable bag for your needs is its material. A good quality catcher's bag should be made of durable fabric.
It should also be made of material that can stand up to wear and tear and be able to withstand extreme heat and cold conditions.
Size
Size is perhaps the most important factor when choosing a catcher's bag, simply because it has to fit all your gear.
You should check the dimensions of your bat, helmet, and chest protector to make sure they'll fit inside the bag with room to spare. Some bags are also large enough to include other equipment or accessories, such as batting gloves and cleats.
Durability
It is important to know how durable your catcher bag is. It is an essential consideration because it can affect the condition of your equipment inside.
If the material is weak, it might not protect the contents when dropped or bumped against hard surfaces. Ideally, it would help if you chose something that can stand up against wear and tear as well as minor collisions.
Organization
It can be tough to find a particular item in your bag if it doesn't have any organization options. That's why many bags have pockets for specific items. Even compartments for each piece of gear you own that way, everything has its place and is easy to find in just seconds.
Why do you need a best catchers bag?
If you're a catcher, you know that your gear is the most expensive on the field. A catcher's bag is the perfect way to keep it all together, organized, and protected. There are many reasons to get the best baseball bag for catchers. Here are some of the main ones.
To Store All Your Gear
A catcher's bag needs to be roomy, so there is plenty of space for your equipment. The best catcher's bags can hold multiple pairs of catching gear, extra baseballs, baseball gloves, and any other equipment you may need in-game.
There should also be ample room for personal items that you might want to bring along. Having a separate bag for all your gear is a great way to keep everything organized and together.
This way, you won't misplace any essential pieces of gear or have to look through your entire closet to find one missing item.
Storing everything in a single bag reduces clutter and makes it easier to locate everything when needed. There are different rooms on bags, such as top loaders and side loaders. One or another might work better with your personal preference.
Easy and convenient transportation
It's a no-brainer, but it's one of the main reasons to get a catcher's bag. You already have enough to carry when you have all your gear in tow, so why not make that job easier?
A bag helps you keep everything organized and in the same place. It eliminates the hassle of having to carry your gear around by hand. Plus, a bag also protects your equipment and helps it last longer.
Protection from damage
The first is that it will help you to protect your equipment. This is because the bag allows you to store your equipment safely and securely. It can also protect your equipment from being damaged.
It will cover the catcher's bag from being worn out and damaged by the sun and rain. This means that you will have more money in your pocket when it comes time to replace the catcher's bag.
Frequently asked questions
What is the best brand of catchers gear?
The best brand catcher's gear is the one that's durable, affordable, and reliable catcher's bag. Louisville Slugger, Easton bags are extremely durable, while bat bags can provide extra storage space without affecting the durability of baseball equipment.
What is the best catchers bag for high school?
Are you looking to find the best bag for high school or softball athletes? We've compiled a compilation of tried, tested, and true catchers equipment that includes, Under Armour and Mizuno.
What catcher's bag should I use?
Catchers need to carry more equipment than any other player. They also have a lot more weight in hand to lug from one position to another. That's why it's essential to use a good catcher's bag.
Conclusion
Hopefully, these choices helped you find the right baseball bag for you. If you're a catcher and looking for a bag that best catcher's equipment, then the catcher's bag should be durable, affordable, and reliable baseball or softball equipment.
No matter which catcher belt you choose, it is essential to choose the best baseball bag for a catcher which best fits your needs.
Fortunately, we've provided a list of top bags that are sure to suit your needs. We hope this article was informative and helped you find what you were looking for.